The burning Arctic – Scientists are tracking an "unprecedented" number of fires burning north of the Arctic Circle in Greenland, Russia, Canada, and Alaska after a record summer heatwave. By one estimate, the fires released more carbon dioxide than Sweden's entire annual emissions in June alone. It's the kind of feedback loop that we're likely to see more of as global temperatures continue to rise: a heat wave dries out tundra, then fires release huge amounts of CO2, further warming the planet. This problem increases the risk that politically disruptive effects of climate change – like mass migrations or geopolitical competition for ice-free Arctic sea lanes and undersea resources – will arrive (much) more quickly than expected.

via GZero Media
Arctic wildfires spew soot and smoke cloud bigger than EU
A cloud of smoke and soot bigger than the European Union is billowing across Siberia as wildfires in the Arctic Circle rage into an unprecedented third month.

The normally frozen region, which is a crucial part of the planet's cooling system, is spewing carbon dioxide into the atmosphere and worsening the manmade climate disruption that created the tinderbox conditions.Quick guide
The Arctic is burning and Greenland is melting, thanks to record heat
The Arctic is on fire. Record-breaking temperatures and strong winds are fueling an unprecedented number of wildfires across the region this summer. In Siberia alone, hundreds of wildfires captured by satellite images July 28 spanned about 3 million hectares of land. Across Alaska, as many as 400 wildfires were burning as of mid-July. And the heat is also melting Greenland's ice at an alarming rate.

In Alaska, a heat record toppled July 4, with temperatures reaching as high as 32.2° Celsius (90° Fahrenheit). Average June temperatures in parts of Siberia were almost 10 degrees higher than the average temperatures from 1981 to 2010. That same month, more than 100 intense wildfires were burning within the Arctic Circle.
Wildfires Ravaging The Arctic Right Now Are So Intense, You Can See Them From Space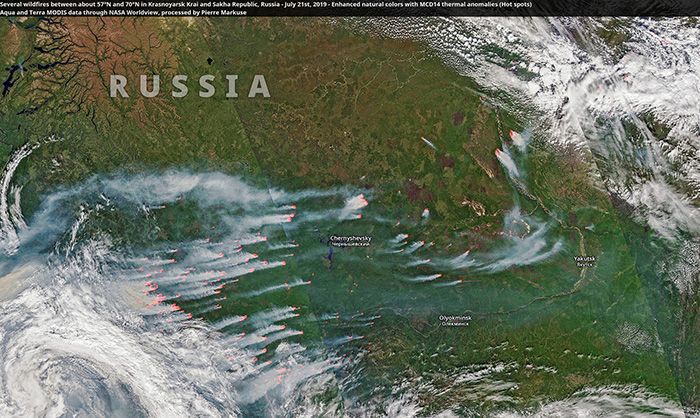 .
.
.